May is definitely turning into a good month! I'm excited to be sharing with you today my thoughts on The Development by Jackie Kabler. I'm trying my hardest to read at least one book each month, to reach my Goodreads Reading Challenge of fifteen books in 2018. This month is very strong for this as I'm participating in three different Blog Book Tour. First, I read The Planetsider, then I read SHINE, I planned these well seeing as it's Get Caught Reading Month.
This blog book tour is hosted by Jenny Marston, over at Neverland Blog Tours, I have found some new loves since participating in book tours. Today is no different as I am the first stop on The Development Blog Tour hosted by Jenny, I am also sharing today with Oh Hay! Blogs and Everywhere & Nowhere so please check out their blogs to read what they thought.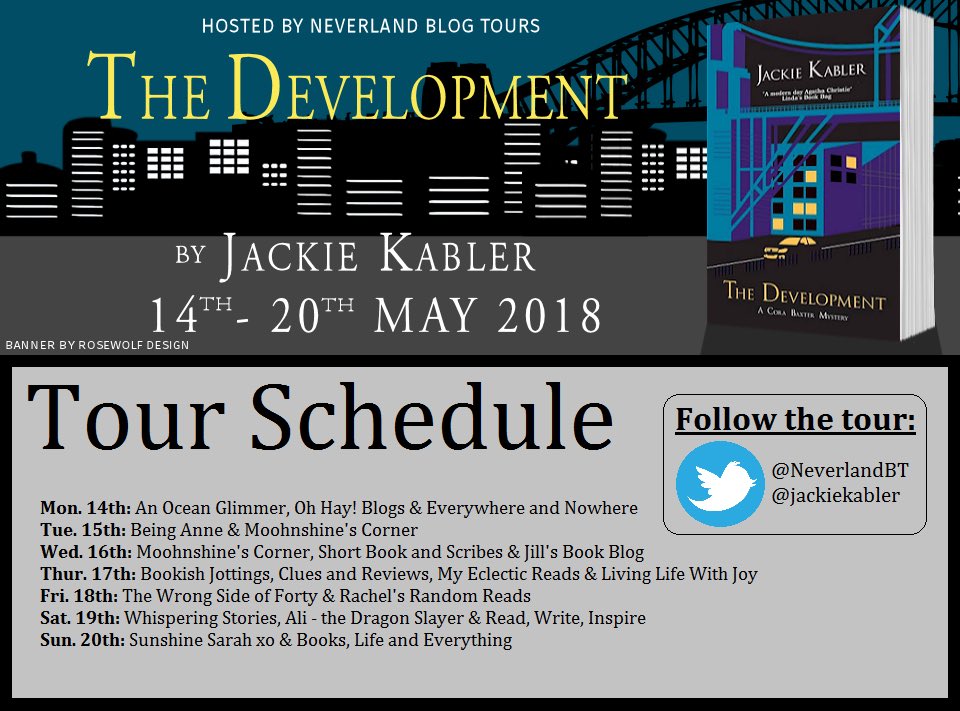 The Development? Let me tell you a little bit about it;
After a stressful week, TV reporter Cora Baxter is ready for a quiet weekend. But what she hadn't counted on was witnessing the shocking death of a young woman on her way home. She discovers seventeen-year-old Leanne had been protesting against a new housing development, angering the powerful establishment. Leanne's death is ruled a suicide, but when puzzling information comes to light.
Cora decides to investigate further. She doesn't know what an unscrupulous businessman, a suspended police officer and hate-mail sending neighbours have to do with the case – but she knows there is a news story there. With her eccentric camera crew on hand to help, can Cora tie the strands of Leanne's case together – or will other forces interfere?
The Development is the third in the Cora Baxter Mysteries Series.
Now The Development is a little different to what I normally read, I love anything Supernatural / Thriller based but The Development is 100% a Crime / Mystery book. Now, I didn't realise until after reading, this book is the third from Jackie in her Cora Baxter Mysteries Series. This didn't make a difference at all, don't worry about having to read the first time, The Development can be read as a stand-alone. This is great as it means I can read The Development without worrying about the other books.
Unfortunately, with being super busy recently, I wasn't able to read the whole book in one sitting, I wish I did though because there were many occasions where I couldn't stop thinking about this book! I love the plot of The Development, you follow Cora Baxter, a TV reporter where her work takes her across the country. One night though on her way home, she witnesses a young woman's suicide. There's a part of Cora that believes there's more to this though.
Meaning she begins to work out the mystery of what actually happened! As more and more information comes to the surface about this young woman. Each chapter leaves you wanting more, as it gets super tense, also it's actually really unpredictable. What you think should happen, actually doesn't! It was really hard to stop reading, I actually had to finish a whole chapter before putting it down as it meant I semi came to an ending.
I haven't read very many books in this genre, so I don't have much to compare to but in terms of other books I've read, this is definitely up there with my favourites. Also, the writing styles of Jackie is perfect, you really can not fault it, there's just something about it that keeps you gripped until the last word of the last chapter. The characters are also brilliant and you can get along with them really well, I especially love Cora as a character.
What I love the most about The Development, is how Jackie wrote them based in a world she knows very well, the morning television newsroom. This really works and it feels 100% real, something that I love when it comes to books as it draws you in and keeps you there until the very end. After reading The Development, it makes me want to read the other two books in the Cora Baxter Mysteries Series, The Dead Dog Day and The Deadline.
How about a little about the author, Jackie Kabler;
Jackie Kabler is a journalist, TV presenter and author. She spent twenty years as a TV news reporter for GMTV, ITV and BBC news, and now works as a presenter for shopping channel QVC. She is the author of the Cora Baxter Mysteries, a series of murder mysteries set in a television newsroom. The Development is her third novel.
You can follow Jackie on Twitter, Facebook, Instagram as well as her official website.
There are a lot of bloggers on The Development Blog Tour so I would love for you to check out their reviews! You can do this by following Neverland Blog Tours on Twitter, as Jenny will be retweeting all the posts. As well as giving some love to Jackie and if you can not wait any longer to read it for yourself, you can buy The Development to read in Ebook (Kindle Format) or Paperback from Amazon. You can also find it on Goodreads now!
I hope you have enjoyed this little review! I highly recommend The Development
to all those who love a good mystery.
Follow me on: Bloglovin' | Facebook | Instagram | Twitter
*Thank you Jenny Marston for hosting The Development Blog Tour. The ebook was kindly sent to me for free, in return for an honest review. The feature image and those included in the post were sent to me
in the Media Pack, for more information please see my About Page.